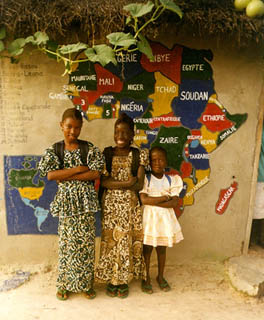 The Senegalese Education Fund was started in June of 2000 for the purpose of providing monetary aid for education to young people in Senegal. This fund was started by Judith Kader Brenner, a former Peace Corps Volunteer, after her return to the US. While she was living in Senegal Judith lived, worked, and connected with many young people. She realized that one of the most important differences that could be made in her friends' lives was having access to both formal and informal education.

Presently, one in 25 boys graduate high school. Only 1 in 75 girls ever achieves a high school diploma. Out of these extraordinary young people who have persevered through high school, only a few can afford to go on to higher education. If a family can afford the cost of tuition of a university or technical school, the cost of housing the student in an urban area is usually beyond their means.

Young Senegalese face many obstacles to getting an education, including sexual discrimination, bribery, and family status and situation. Even though the enrollment of girls into the formal govenment provided schooling has increased dramatically in the last 10 years, if children are not signed up for school at 6 years old, they can never enter the school system. The Girls Club offers an alternative education environment for girls in this situation. Girls Clubs have started all over the country and the Senegalese Education Fund is proud to support the one in the Passy region. These offer meetings focused on a central theme, including writing, reading, mathematics, money management, and craft making, while utilizing local women as their facilitators and teachers.

The SEF Project was started to offer monetary supplements to both high school graduates to continue their education and to the Girls Club to support the work that they are doing. An average year at university or technical school costs approximately $1000 and one year of a Girls Club costs approximately $200. This includes all the tuition, books, and living costs of higher education and the travel and materials cost of the Girls Club.